Out Chasing Star Review on Drift Paddle board Inflatables
Why an iSUP?
We've made a lot of friends who have inflatable standup paddleboards, and in the last year I've borrowed a few and taken them out for a spin.  The iSUP solves all these problems:
 Getting onto the iSUP from the water is incredibly easy.
The iSUP will fit on top of our dinghy davits when inflated.  Several friends keep their inflated all season long and just properly secure on deck while on the move.
Any paddleboard is just one solid piece of material or one tube.  This is much easier to clean, as there's no crevices and folds for sand to get stuck in.
I did my research, talked to friends, and found two companies I was interested in buying paddleboards from.  I bought from Drift Paddleboards, and so far am very pleased.  Meet, the Gemini Twins: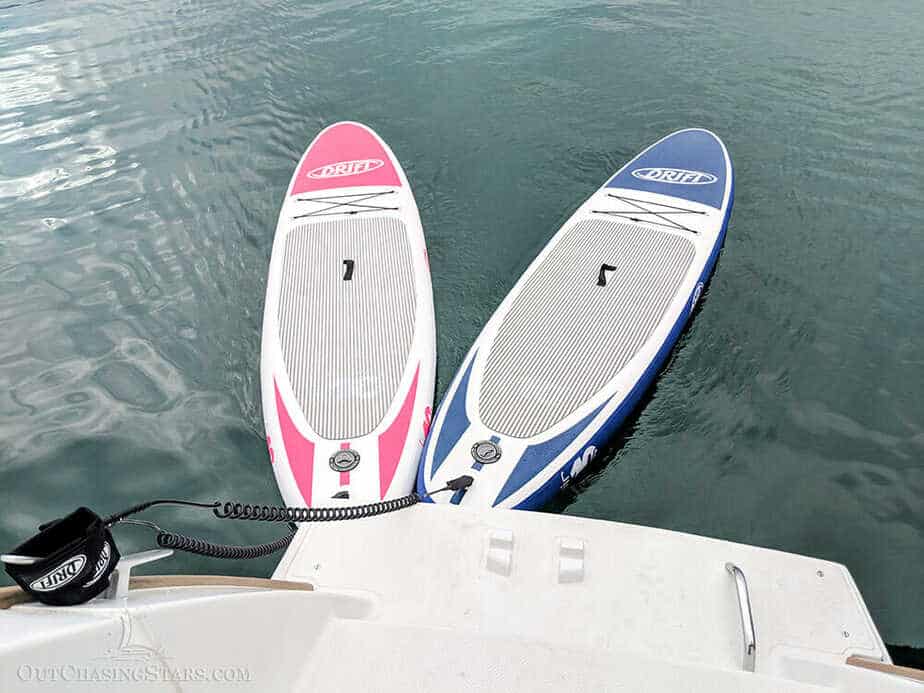 Unboxing our New Drift Paddleboards
We'd been carrying the new paddleboards around on Starry Horizons for a while.  Unfortunately, the water here on the east coast of Australia (south of Moreton Bay) hasn't been all that pretty, plus we were traveling away from the boat a lot. Finally, when our friend Madeline was visiting we'd just spent a few rainy days cooped inside playing games.   The wrecks of Tangalooma ended up being a fun place to get the paddleboards out for the first time.
It had been a while since I'd bought them, so I'd pretty much forgotten what was in the box.  Our Drift Paddleboards came with:
an actual backpack (the ikayak we had had a weird bag with a shoulder strap, which was very uncomfortable)
repair kit
iSUP body
cargo net
leash
paddles (we upgraded to the carbon fiber adjustable paddles)
manual pump
There were no instructions that I could find, so I was a bit on my own, but I was able to figure everything out.
Taking our New Drift Paddleboards for a Test Run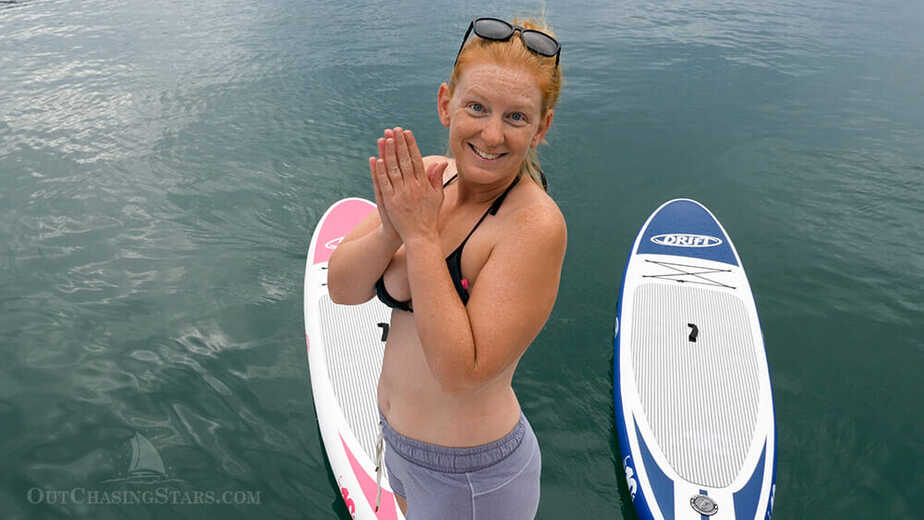 My Thoughts on our new Paddleboards
So far, so good.  I am very happy with the ease of inflating the paddleboard and assembling it.  It is smaller than our old ikayak and lighter as well.  The stability is good, which Madeline can attest to.  Madeline had never paddleboarded before, but she very quickly caught on and was able to stabilize herself and paddle around.  I was impressed with how much speed I could pick up.  There is a pretty strong current near the wrecks, but both Madeline and I had no trouble paddling back to the boat up current.  The iSUP fits well on the davits, and hoses down easily.  I am so glad I got to take a test run at such a unique place, and I look forward to a lot more amazing paddles soon!
Inflatable Paddle Board Packages